Former Egyptian President Hosni Mubarak, 91, has died in a military hospital in Cairo.
The armed forces of Egypt released a statement of mourning for the longtime air force officer and military leader: "The General Command of the Armed Forces mourns one of its sons, and one of the leaders of the glorious October war". Three days of mourning have been announced.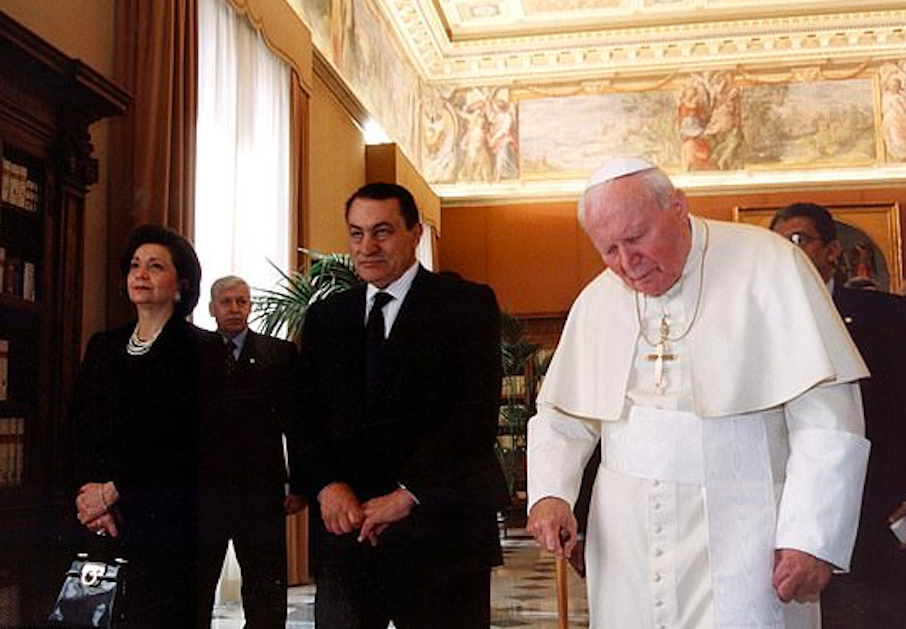 Dubbed the Pharaoh by his opposition, Mubarak ruled Egypt for 30 years as the country's fourth president. However, political career was not a bed of roses for Hosni Mubarak. While in power, he survived at least six attempts on his life.
"Egypt and I shall not be parted until I am buried in her soil", he said after the Arab Spring uprising, when he was forced to step down on 11 February 2011 as a result of the 18-day revolution. He was arrested two months later after his resignation, spent years in jail, and was freed in 2017 after he was cleared of the final murder charges against him. It seems improbable that Mubarak can be ever parted with the history of his homeland and forgotten after his death. In fact, quite on the contrary.
Hosni Mubarak was born on 4 May 1928 in the Nile Delta village of Kafr Musailha. During his childhood, Egypt was supervised by Britain, which controlled the Suez Canal.
Mubarak entered the country's air force in 1950 when Egypt was still a monarchy and served as an air force chief of staff between 1967 and 1972. Mubarak was promoted to air marshal after the 1973 Arab-Israel war.
In April 1975, a respected commander in the Egyptian Air Force was appointed by President Sadat as his vice president. On 6 October 1981, Mubarak became president following the assassination of Anwar Sadat.
The financial support of the American government ensured that Egypt maintained civil relations with Israel. Also, President Mubarak eagerly helped mediate with the Palestinians, indeed playing a crucial role in the Israel-Palestinian peace process.
In 2011, British PM Tony Blair praised him as "immensely courageous and a force for good". The bare words were useless to help Hosni Mubarak against the Arab Spring.
Being a cunning player in the world political games, Mubarak managed to be on the good side of the United States and the Soviet Union as well as post-Soviet Russia until an experiment in world politics was launched in the name of 'delivering democracy'.
Egyptian protesters on Tahrir Square in central Cairo and other major Egyptian cities called for "bread, freedom and social justice". However, revolutions never help in fulfilling noble goals and dreams. Ever.
Today many Egyptians notice political similarities between Hosni Mubarak and their leader, the former general Abdel Fattah al-Sisi and they wonder whether the Arab Spring was worth all fuss at all. The current president is befriended and embraced by the western leaders with equal if not greater appreciation than the late Mubarak. On 23 January 2020 President Abdel Fattah Al-Sisi received the German Semper Opera Ball's Dresden Medal of St George "in recognition of his efforts in achieving security, stability, and development in Egypt".
Now with the main player gone, the history of Egypt in the last two decades of the 20th century will be analysed and judged impartially.
"Hosni Mubarak... lived long enough to go from experiencing disgrace to witnessing an even more brutal dictator replace him that has left many in Egypt missing his presidency despite how reviled he once was", said Timothy E Kaldas of the Tahrir Institute for Middle East Policy. When the western great powers finally realise that hungry eastern nations never lose the sharpness of their eyes to see the reality and effectively ignore advertised ideas and visions?!
Who knows how long it will take for more of Mubarak's fellow countrymen to agree that it was their fourth president who allowed the Arab Spring to happen when he loosened his rule with an iron fist; when he allowed the Islamists to obtain seats as independents in the parliament of Egypt in 2005; when he granted the Egyptian media enough freedom to spread rebellious ideas. Maybe becoming more 'democratic' was the main mistake of President Mubarak that led the country into riots and ended in worsen the economical and unstable political situations. People will suggest, and time shall show.
When Mubarak was freed from the Maadi military hospital in 2017, small crowds of supporters gathered outside his bedroom window in solidarity. This fact already means more than nothing. How many dictators agreed to face a trial and spent years in jail? Unusual fact in the case of Hosni Mubarak, to say the least.
Definitely, Hosni Mubarak was no angel but compared to Augusto Pinochet – a dictator of Chile from 1973 to 1990 – the Pharaoh was rather similar to Lucifer Morningstar from the American television series, played by a Welsh actor Tom Ellis. Who has eyes, will see. Who has ears, will hear.
And who has brains, will think and realise. "Nobody imagines that we can press a button and freedoms will arrive. Otherwise, it would lead the country to chaos and that would be a danger to people," Hosni Mubarak once said. It is easy to judge someone but tricky to see a real person behind a stereotype wrapped in a media wallpaper.