Sigourney Weaver who plays Ellen Ripley from the Alien franchise is a birthday girl today. The pioneer of action heroines in science fiction films has created an era, which put a solid brick into world cinematography.
Two Golden Globes (for Working Girl, and Gorillas in the Mist both in 1989) and a BAFTA Award (for The Ice Storm in 1998) winner, as well as a three-time Academy Award nominee, three-time Emmy Award nominee and seven-time Golden Globe nominee, has had a fruitful career, which gained her well-deserved adoration and love from fans.
Just the list of films she starred or gave a solid support to the main characters brings emotional memories to the moviegoers:
Jill Bryant in The Year of Living Dangerously (1982) alongside Mel Gibson
Catherine DeVoto in Deal of the Century (1983) alongside Chevy Chase
Dana Barrett in Ghostbusters (1984) and Ghostbusters II (1989) alongside Bill Murray and Dan Aykroyd
Jessica Fitzgerald in One Woman or Two (1985) alongside Gérard Depardieu
Lauren Slaughter in Half Moon Street (1986) alongside Michael Caine and Patrick Kavanagh
Katharine Parker in Working Girl (1988) alongside Harrison Ford and Melanie Griffith
Queen Isabel in 1492: Conquest of Paradise (1992) alongside Gérard Depardieu and Armand Assante
Ellen Mitchell in Dave (1993) alongside Kevin Kline and Frank Langella
Claudia Hoffman in Snow White: A Tale of Terror (1997) alongside Sam Neill
Janey Carver in The Ice Storm (1997) alongside Kevin Kline and Joan Allen
Alice Goodwin in A Map of the World (1999) alongside Julianne Moore
Gwen DeMarco in Galaxy Quest (1999) alongside Alan Rickman and Tim Allen
Angela Nardino / Max Conners / Ulga Yevanova in Heartbreakers (2001) alongside Gene Hackman, Ray Liotta, and Jennifer Love Hewitt
The Warden in Holes (2003) alongside Jon Voight and Shia LaBeouf
Linda Freeman in Snow Cake (2006) alongside Alan Rickman and Carrie-Anne Moss
Lenny in The TV Set (2006) alongside David Duchovny
Babe Paley in Infamous (2006) alongside Sandra Bullock, Isabella Rossellini, Gwyneth Paltrow, Daniel Craig, and Toby Jones
Julia in The Girl in the Park (2007)
Chaffee Bicknell in Baby Mama (2008)
Ship's Computer (voice) in WALL·E (2008)
Mary Griffith in Prayers for Bobby (2009) alongside Henry Czerny
Dr Grace Augustine in Avatar (2009)
Viki in Crazy on the Outside (2010) alongside Tim Allen and Ray Liotta
The Big Guy in Paul (2011)
Margaret Matheson in Red Lights (2012) alongside Robert De Niro, Toby Jones, and Elizabeth Olsen
Carrack in The Cold Light of Day (2012) alongside Bruce Willis and Henry Cavill
Elaine Barrish in the TV mini-series Political Animals (2012)
Cisserus in Vamps (2012) alongside Alicia Silverstone and Krysten Ritter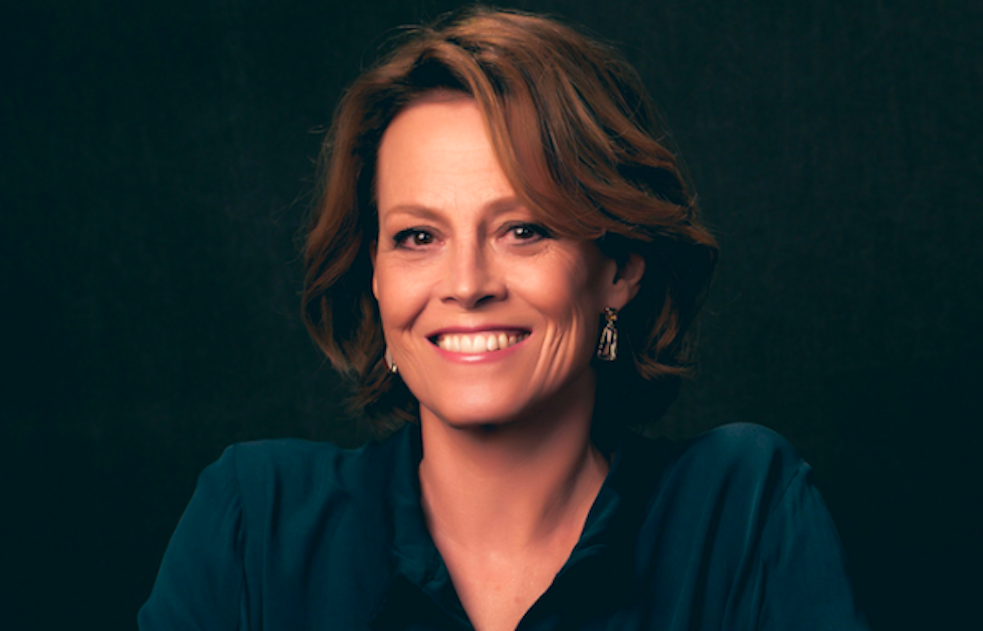 Michelle Bradley in Chappie (2015) alongside Hugh Jackman
Beth Traywick / American Tourist in the British TV series Doc Martin (Facta Non Verba in 2015, and All My Trials in 2017) alongside Martin Clunes
Grandma in A Monster Calls (2016)
Doctor Rachel Jane in The Assignment (2016) alongside Michelle Rodriguez and Anthony LaPaglia
Alexandra Reid in the TV mini-series The Defenders (2017) alongside Charlie Cox and Krysten Ritter
Born Susan Alexandra Weaver on 8 October 1949 in Manhattan, New York City, she started to use the name 'Sigourney Weaver' in 1963 after Mrs Sigourney Howard, Jordan Baker's aunt, a minor character in F. Scott Fitzgerald's novel "The Great Gatsby". She is the only daughter of Elizabeth Inglis (née Desiree Mary Lucy Hawkins from Colchester, Essex; 1913-2007), an actress, and Sylvester 'Pat' Weaver (from Los Angeles, CA; 1908–2002), an NBC television executive and television pioneer. Sigourney Weaver has been married to stage director Jim Simpson since 1 October 1984. They have one daughter, Charlotte Simpson who was born on 13 April 1990.